Wiclax is a powerful and complete race scoring and race timing software solution to manage all your events, easily and efficiently. It's built by and for demanding timekeepers.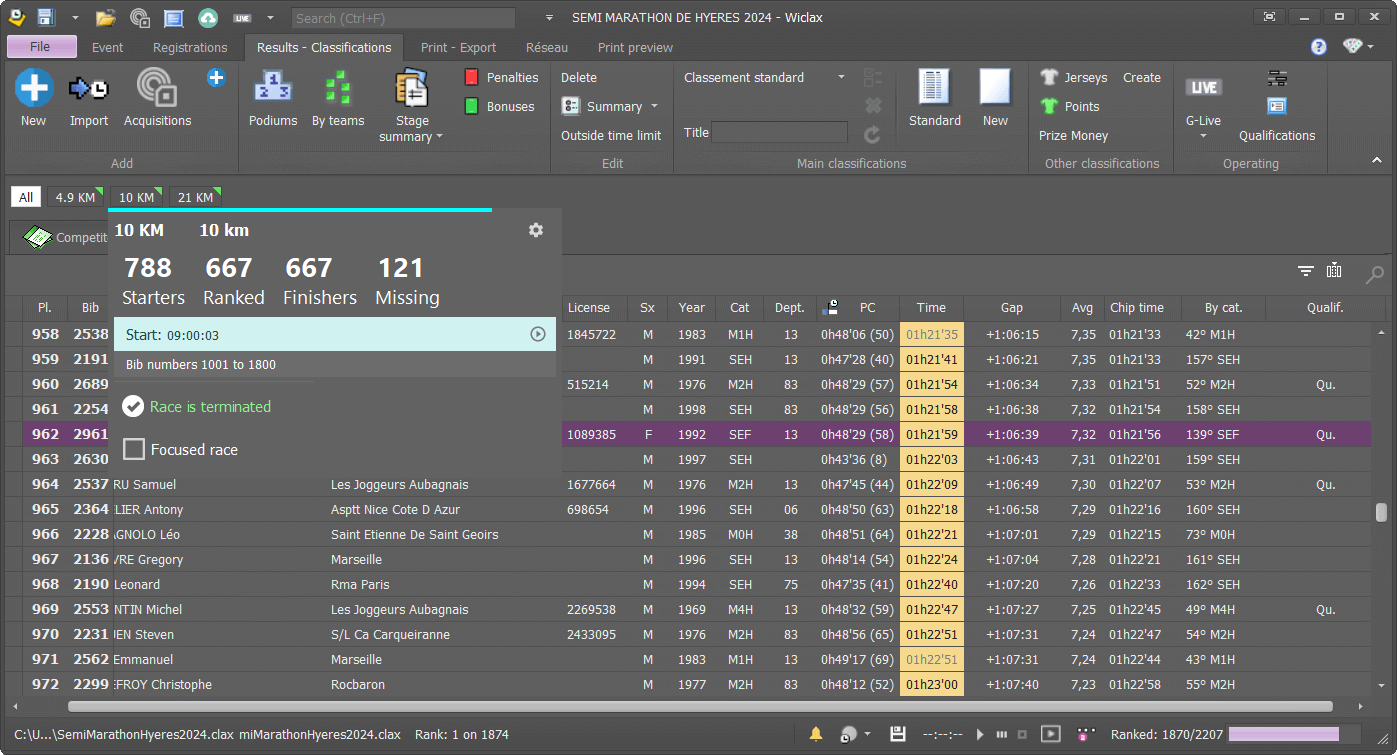 For all your timings
Wiclax is adapted in depth to various sporting disciplines: running, cycling, triathlon, car or moto competitions and various typologies of races: in line, time trials, by laps, by stages, in relay, individual, by team...
Complete!
Live on the Web, on led screens/TV/tablets, SMS, Web App, notifications, TV overlays, cartography, predictive times, athlete's hit lists, photos... Wiclax brings everything that a modern timing software must offer in 2022.
The best of cloud and desktop
Gathering the best of cloud services in a desktop software built over modern components, fast and powerful
International
Wiclax is translated into French, Italian, Spanish, German, Portuguese and Russian in addition to English. Your race results can be viewed in 8 different languages. And everything is ready for your own translations...
Connected
Interfaced with most of the RFID timing systems manufacturers around the world: Race Result, Mylaps, Chronotrack, Urtime, Timing Sense, Macsha, J-Chip, Feibot,...
Intuitive and elegant
Designed to be simple and user friendly in settings and use during your timing days.
First class printouts
Whether as paper output or PDF output to be published online, Wiclax offers you a tool for formatting and customization highly sophisticated.
Keep the control!
Keep and release your race rankings on your own website. Benefit from the free Wordpress plugin or straighly use our publishing package.
Open
Import some participant data or some result data with a lot of ease. Export through many chanels and in the format of your choice.
Wiclax is compatible with OS Windows 10 and Windows 11.
Want to discover Wiclax? Download the trial version and make your first tries!
Vous aimeriez être accompagné pour démarrer ? Rien de plus simple
Ready to buy? That's here
Our experience
Here at Génialp, we've been professional timekeepers for more than 10 years. Wiclax is the fruit of that experience, and we're proud to share it with our fellow community around the world.
We're passionate about bringing the same level of excellence to any kind of race. And we're committed to constantly challenging our race timing solutions to perform in even the most complex and varied situations.
At Génialp, we pride ourselves in delivering the live, accurate results that race organizers and competitors depend on--every time.
Buy Wiclax now, and deliver the same high level of performance to your own clients.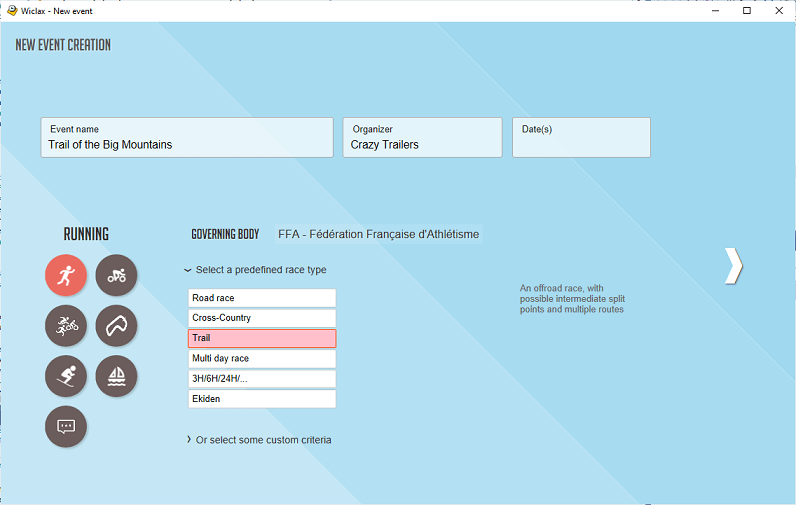 Get started with our assistant
A primary level of settings is offered to you in order to select the major characteristics of your event: in line, by stages, in relays, by laps, etc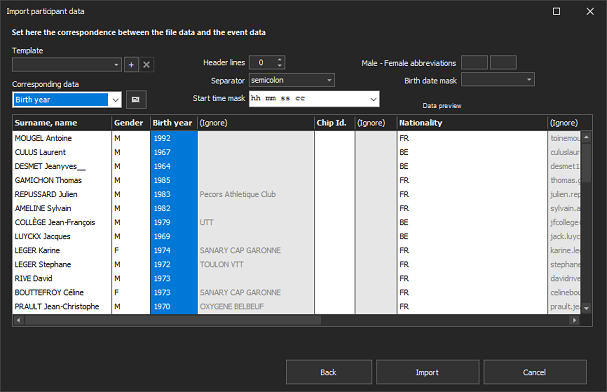 Manage your participants
Enter directly your participants or import them from an Excel file, CSV or other, without anything to change to the data columns. Or import them straight from your favorit online registration platform.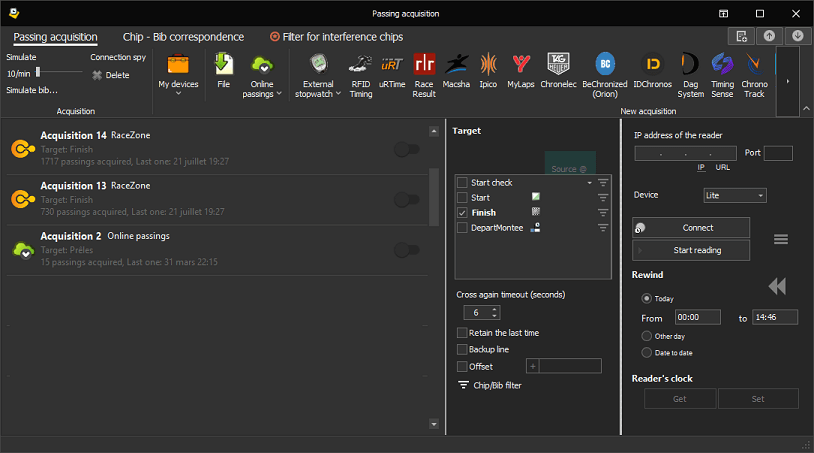 Connect your RFID devices
Set up connections with your RFID readers, in a wired way or through the cloud for remote timing locations.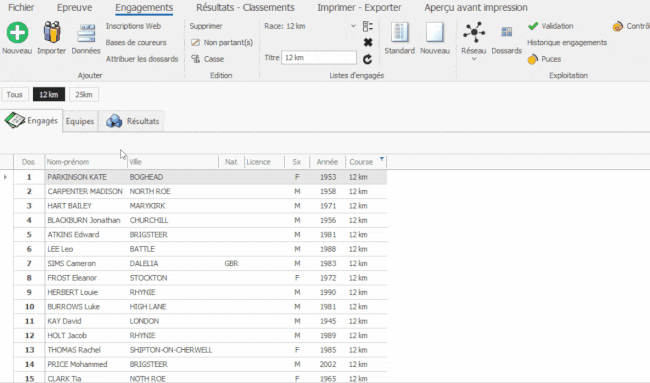 Enter races start times
Enter start times for the different races of the day or get them automatically from your RFID equipment.
Some complex conditions can be defined for waves management.
Individual start times can be taken into account in addition to the gun start.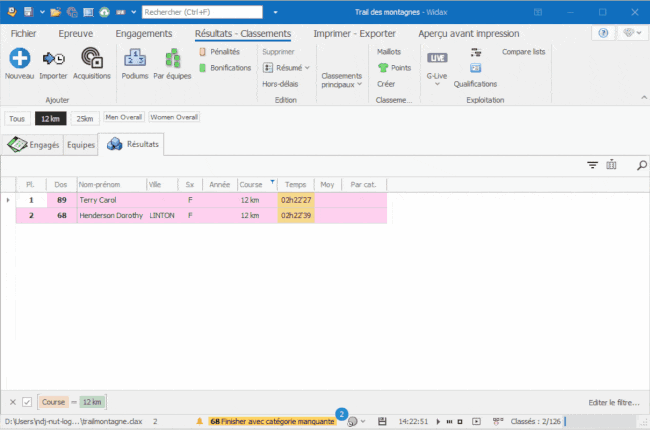 Integrate timing data in real time
From remote locations just like for the finish line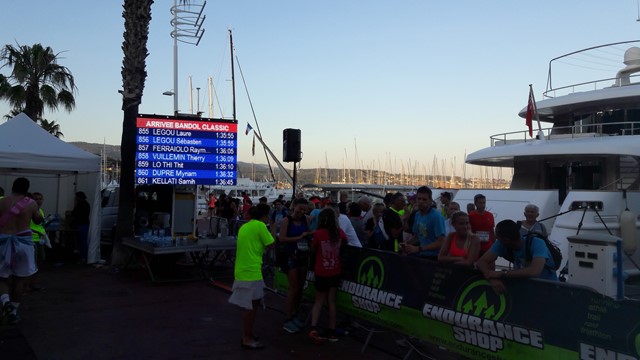 Display race data in real time
On the race commentator tablet, on the web or on your giant screens
To provide our customers the best service and ensure that the solution keeps being enhanced for everyone's benefit, Wiclax is available as a one-year rental pack.
This annual fee includes any new version update during the period, and a support assistance by mail or Skype to help you to get started.
The Wiclax solution is available as 3 different packs:
Pack PRO
Includes all features of the solution + the Start module + the Championship module
Wiclax can be installed on 3 different PCs, with all its features
No limit on the participant volume per event
Price for 1 year:
400 €
+ 20%
VAT
Additional options (per year)
Maps


Maps and race tracks with results published on your website - race profiles, race time estimates, live position tracking with our partners

210 € +20%

VAT

Web Services


Real time data display on your website, race participant entry through Internet, Start module through Internet, Internet race data broadcasting

150 € +20%

VAT

Maps + Web Services (discount)

300 € +20%

VAT
The license can be purchased VAT free if you're settled outside of EU, or in case you can provide a valid international VAT number (France excluded).
Pack Expert
The Expert pack is suitable for a club aiming at managing itself the scoring of its races. The software ergonomy make it usable without a big knowledge or experience. If the size of your events is not that huge but you really want to offer a great timing quality, then the Expert pack is for you.
Price for 1 year:
150 €
VAT (tax) included
Pack Standard
Price for 1 year:
25 €
VAT (tax) included
See below for a complete list of features included in each pack.
Ready to buy? Please go here to register an account and proceed further.
Any question? Don't hesitate to contact us.
Features by pack
Trial version
Standard
EXPERT
PRO
Max number of competitors, per event file
Illimited
300
Illimited
Illimited
Max number of results, per event file
30
300
Illimited
Illimited
Number of computers allowed by license
-
1
1
3

G-Live App (local and Internet)

-
-
Electronic timing - Multiple real-time acquisitions, multiple targets (start, finish, splits)
-
-

Connectivity to RFID systems

RFID Timing

uRTime

Ipico

Chronelec

Bechronized

Race Result

Dag

Timing Sense

Macsha

Chronotrack

MyLaps - AMB

J-Chip

Trident

ID Chronos

BibChip

BR Chrono

Feibot

Weer

Black Box

-
-

Compatibility scope with Wiclax

Connectivity to Stopwatches

- Alge/Tag Heuer/Microgate/...
-
-
Stage races
-
Time trial events or stages
Team time trials
-
General rankings
-
Lap races
-
-
Relay races
-
-
Prologue
-
Podiums
Competitor summary
Live screen
-
Registration data validation
Split times and segments
-
Routes, multi-race events
Gun time and chip time
Import competitor lists (Excel, OpenOffice, text, Wiclax...)
Import results and splits (Excel, OpenOffice, text, Wiclax...)
Remote import via HTTP address
Export data to Excel (competitors, results)
Export by FTP
-
-
Localization of printouts and exports
Team classifications
Mountain and points rankings
Custom other rankings
Bonuses and penalties
-
Start times assignment assistant
Bib number assignment assistant
Certificates - printout and Web
-
Competitor and club databases
Remote participant data entry (local network)
-
-
Championship module
-
-
-
Start module
-
-
-
SMS Module
-
-
-
Inline help